Orthodontics in Leesburg VA
For most people, achieving a healthy, beautiful smile is the reason for choosing to receive orthodontic care. If you're self-conscious about your smile, having braces will greatly improve the way you look and feel.
When your treatment is complete, you will have the smile you've always dreamed of as well as the confidence to show it off! We also want you to feel comfortable and confident throughout your entire orthodontic experience, so our practice is dedicated to making sure that you receive the quality care you deserve.
How Orthodontic Treatment Works
Orthodontic appliances are made of metal, ceramic, or plastic. They may be removable or they may be brackets bonded to the teeth. By placing a constant, gentle force in a carefully controlled direction, braces slowly move teeth to the proper position.
Gone are the days when a metal band with a bracket was placed around each tooth. You can now choose from brackets that are clear or metallic, and in some cases, the color of your appliance. Wires are far less noticeable, and the latest materials are designed to move teeth faster with more comfort. Today, any age is a great age to wear braces!
Duration of Treatment
Depending on several factors, including age, treatment method, and how minor or severe your case is, treatment time varies and can last between one and three years. A big factor to a successful treatment is you, the patient! The more involved and diligent you are, the quicker and more efficient your treatment will be. For children, receiving interceptive, or early treatment, can also help provide a quicker treatment time later on in life.
Before beginning your orthodontic care, your doctor will discuss all of your options and provide an estimate for how long your full treatment may take. Please contact our practice to schedule an appointment and learn more about orthodontics and the treatments we provide.
Types of Braces
Traditional Metal Braces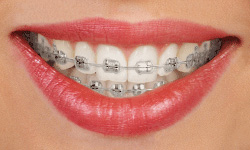 Traditional metal braces are the most common type of braces and are more comfortable today than ever before. Made of high-grade stainless steel, metal braces straighten your teeth by using metal brackets and archwires. With metal braces, you have the option of adding colored elastics (rubber bands) for a more unique and colorful smile.
Self-Ligating Braces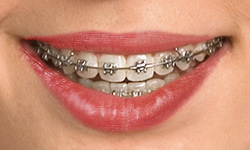 Self-ligating braces are made from the same materials as traditional braces; however, self-ligating braces do not require the use of elastics, meaning fewer appointments and less friction being placed on the tooth. Self-ligating braces come with traditional metal, ceramic, or clear brackets. They are the same size as metal braces, but they use a specialized clip in place of elastics to help the archwire guide teeth into place. The clip helps reduce the amount of pressure being placed on the tooth and requires fewer adjustments because there are no elastics to replace.
Clear (Ceramic) Braces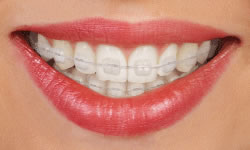 Ceramic braces are made of clear materials and are therefore less visible on your teeth than metal braces. For this reason, ceramic braces are used mainly on older teenagers and adult patients who have cosmetic concerns. While they are visually less prominent, they do require more attention to oral hygiene, as ceramic braces are larger and more brittle than their metal counterparts. For these reasons, ceramic braces tend to be used more on upper front teeth rather than on lower teeth.
Gold Braces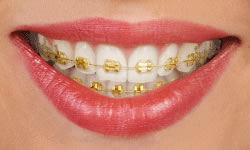 Gold braces are similar to traditional metal braces. Like traditional metal braces, gold braces are made of stainless steel; however, they are uniquely coated in gold. The gold coating may be considered a more cosmetic option than traditional metal braces. And, the cost of gold braces is surprisingly comparable to most clear braces
Lingual Braces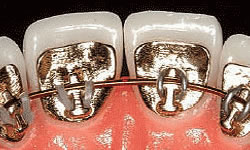 Lingual braces are hidden behind the teeth and are therefore "invisible" when you smile. Lingual braces are 100% customized to match the shape of your teeth; the metal appliances are created uniquely for you. Lingual braces are a very reasonable option for athletes, models, actors/actresses, musicians who play wind instruments, and adult professionals.
Contact our Leesburg dental office and make an appointment. We are here to help: 571-455-0466
IMPLANTS PLACED LAST YEAR
Visiting Advanced Dental Care was probably the best experience I have had with a dental practice ever. You can tell that they pay attention to detail and take time to ensure a holistic view of your dental health is considered. I would recommend the practice to anyone.
After moving to the area I needed to find a dentist to do some extensive work – my wife and I found Advanced Dental Care and we could not be happier. The staff is polite professional and understanding. Everything is clearly explained, questions are invited and answered, and most importantly patient comfort is a priority.
I have a dentist phobia but everyone at Esthetique made me feel so welcome and at home. From the awesome staff at the front desk, Diana in customer service, the dental assistants and hygienists and finally to Dr. Talwar – my experience could not have been better. The office is clean, state of the art.